In fact: the attack on the fish market
Here is a timeline of key events on the day of Usman Khan's terrorist attack at Fishmongers' Hall in central London in which Jack Merritt and Saskia Jones were killed:
7:30 am: Usman Khan travels by train from Stafford to Euston Station in London.
Along the way, he is believed to fasten a fake suicide belt around his waist and cover it with his thick jacket.
He is greeted at the station by a member of Learning Together staff and travels by tube and foot to Fishmongers' Hall, near London Bridge.
11 a.m. to noon: Delegates attend a brunch at Fishmongers' Hall, in which video footage shows Khan talking "animatedly" with Saskia Jones at a table, even though they had not met before.
1:45 p.m .: Khan goes downstairs to the downstairs bathroom next to the reception, followed eight minutes later by Jack Merritt.
Between 1:56 p.m. and 1:57 p.m.: Khan launches his attack with two knives strapped to his hands. He stabbed Mr. Merritt multiple times, causing 12 injuries, including a fatal injury to the chest.
Khan then heads to the locker room, where he stabs Miss Jones once in the neck. She staggers a few steps before collapsing.
He then stabbed Stephanie Szczotko and Isobel Rowbotham without death, as well as Fishmongers' Hall doorman Lukasz Koczocik.
A number of people confront him, grabbing items for self-defense including an ornamental pike, fire extinguisher, and narwhal tusk.
Khan forces a member of staff to open the doors to the building, holding a knife to his chest.
1:58 p.m .: The police receive a call to go to the scene.
Around 2:01 p.m .: Khan is chased across London Bridge by ex-offenders John Crilly and Steven Gallant, and civil servant Darryn Frost.
During a confrontation on the bridge, Mr. Crilly sprays a fire extinguisher on Khan and Mr. Frost hits him with a narwhal tusk before they all attack him on the ground along with other members of the public.
2:02 p.m .: Armed City of London police arrive on the bridge and tell members of the public to take a step back. Khan is shot and hit by the police, causing him to twist on the ground.
2:10 p.m .: Khan straightens up and is shot down again due to the perceived threat of what appears to be an improvised explosive device strapped to his body.
2:12 p.m .: Khan no longer shows any sign of life.
2:25 p.m .: Miss Jones is pronounced dead from a single neck injury.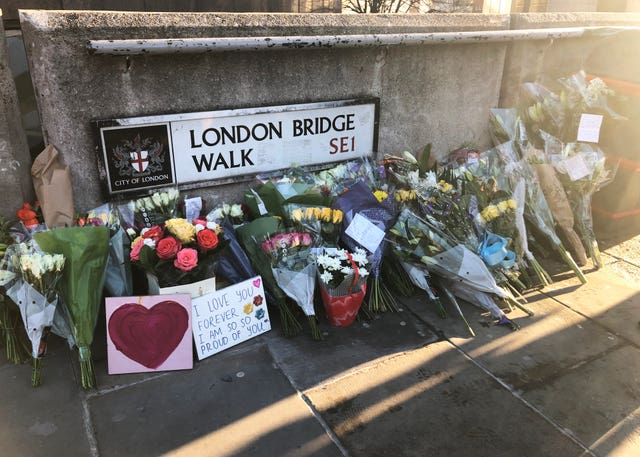 2:33 p.m .: Mr. Merritt is declared dead. A post-mortem examination later confirms that he suffered multiple knife wounds, including defensive wounds. The fatal wound is in the chest.
14:41: An explosives officer walks up to Khan with armed officers and concludes that the bomb belt is wrong.
3:07 p.m .: Khan is declared dead.