Presidential husband Bruce Jacobson will test his dance moves against other local stars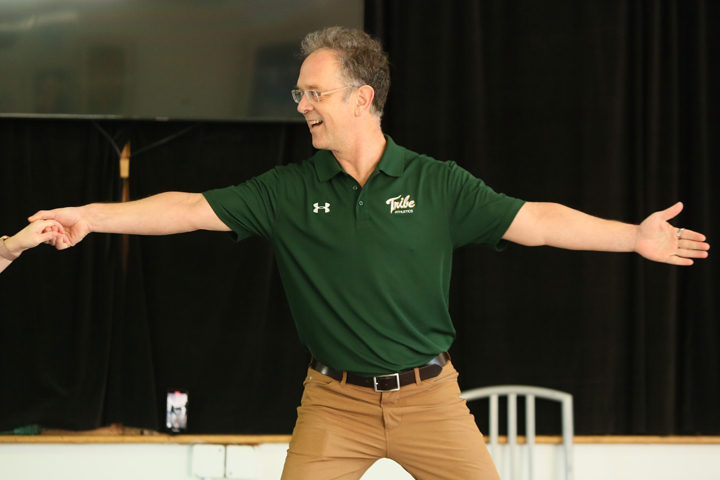 A William & Mary tradition:
First Gentleman Bruce Jacobson will be the last W&M entrant to take part in the Dancing with the Williamsburg Stars event. Jacobson, shown here rehearsing with partner Adelle Carpenter, helps raise money for Big Brothers Big Sisters of the Greater Virginia Peninsula and Literacy for Life.
Stephen Salpukas
by Nathan Warters

|

February 21, 2022

William & Mary First Gentleman Bruce Jacobson's enthusiasm for involvement in the Williamsburg community led him to serve on the board of directors of public broadcaster WHRO and William & Mary Hillel, the Jewish student organization from campus.
It also inspired him to enter a fundraising dance contest called Dancing with the Williamsburg Stars (DWTWS) which has been popular among W&M representatives throughout its 13-year existence.
Jacobson, wife of W&M President Katherine A. Rowe, is one of 10 contestants in this year's DWTWS competition, nine individuals and one team, who will perform live Feb. 26 at Crosswalk Community Church.
"I find being involved in these organizations is just a great way for me to get to know the area," Jacobson said. "As you can imagine, Katherine is so deeply involved in all things William & Mary. It's good for me to look outside of that.
Dancing with the Williamsburg Stars is a fundraiser to benefit Big Brothers Big Sisters of the Greater Virginia Peninsula and Literacy for Life.
Donations can be made by clicking on the links attached to each candidate's page on the DWTWS website. The opening goal for each contestant was $5,000, which Jacobson has already surpassed. But he's still behind the fundraising leaders and asking for all the help he can get. In addition to sponsoring the "Stars", customers can attend the event in person. Tickets are available on the DWTWS website.
The fundraising goal for this year's entire production is $70,000. This year, DWTWS eclipsed $1 million in total donations raised over the event's 13 years.
"These are two great organizations with great missions, and all the money raised is split between these two charities," Jacobson said. "It's easy to see the connection between fundraising and community betterment. Finding mentors to work with kids who may not have one and helping people learn to read and become more empowered in the community is really important for them to be productive in their lives.
DWTWS contestants train and perform with dance professionals. Jacobson is paired with Adelle Carpenter, owner and director of Virginia Regional Ballet in Williamsburg.
The theme of this year's competition is the Roaring Twenties. Jacobson and Carpenter will perform a quick jive dance to the song "Hit the Road Jack" and will be joined by cheerleaders William & Mary for an introductory skit.
Before Christmas, Jacobson and Carpenter worked on the basic steps of their routine, and recently they've been refining their moves and adding elements to make their dance more visually appealing. They usually meet for one-hour rehearsal sessions two to three times a week.
Jacobson learned some nifty moves while preparing for the upcoming competition, but he says he still has nothing on Rowe, who is more natural on the dance floor.
"Katherine loves to dance," Jacobson said. "And she's very good."
Jacobson joins a long list of William & Mary representatives who have participated in previous DWTWS competitions, including Vice President of Strategic Initiatives and Public Affairs Henry Broaddus, who won the competition in 2019.
"The more I talk to people, the more I realize that anyone with roots in this community has done it or knows someone who has done it," Jacobson said.