Swing Latino dance group brings electrifying performances to Global Village this month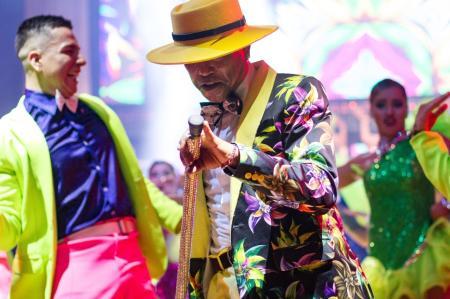 Dubai, United Arab Emirates: Swing Latino, the sensational Colombian salsa dance group that performed with superstars Jennifer Lopez and Shakira during the 2020 Super Bowl show, brings their highly energetic and vibrant performances to the Middle East for the first time East at the Global Village.
Shaun Cornell, Director of Entertainment, Global Village, said, "We are extremely proud to welcome Swing Latino to our main stage. We strive to bring extraordinary talent from around the world to Global Village each season, and the Latino Swing dancers are a perfect example. They have performed on stages around the world and their values ​​and passion echo ours. We're thrilled to have Swing Latino in our Season 26 lineup and invite residents and tourists alike to see this incredible show. So join us in December, you won't believe your eyes.
Twelve-time world salsa champions, the Colombian group will showcase intricate performing skills and jaw-dropping creativity on the main stage at Global Village, United Arab Emirates and the region's leading multicultural family destination for culture, dance and culture. shopping and entertainment in December.
Twenty gold medalists in dancesport as well as world salsa champions with international experience will captivate audiences during the three-week show from December 7-31. Their Caleño dance style, comprised of salsa and Cuban pop beats with gravity-defying routines and captivating dance moves, is sure to amaze visitors.
Luis Eduardo Hernandez, Director and Choreographer SWING LATINO said: "I believe Dubai and the United Arab Emirates have become the new global stage for big shows, so being there is a huge honor for us to touch this prestigious stage in the Global Village in Dubai and share the best of our Latin culture and talents. We are working daily to prepare a very special show to present in Dubai".
Swing Latino was created to help underprivileged children in Colombia get off the streets and use their energy for dance. They have grown into a world-class salsa dance collective and are one of Cali's most famous attractions.
For more information, visit: www.globalvillage.ae or download the Global Village app.
-Ends-
About Global Village
Global Village is the premier family destination for multicultural entertainment, dining, shopping and attractions in the area and among the most visited in the world. Since its creation, it embodies different aspects of the world and brings smiles to millions of guests every season. This unique and integrated outdoor destination offers its guests the widest and most varied range of events, shows and activities in the region. Global Village takes guests on a journey rich in culture, cuisine and awe-inspiring entertainment.
For media inquiries, please contact:
Omar Abd Rabou
Media Relations Manager
MSL Group
[email protected]
© Press release 2021