The Park University dance group encourages fellowship and the school spirit.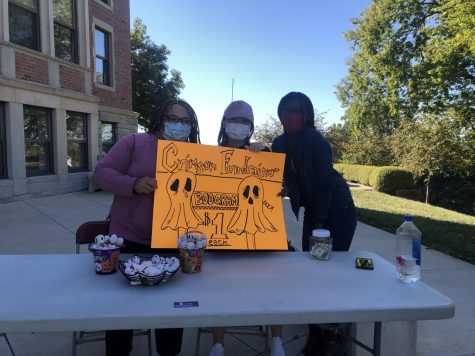 Crimson Dancers are more than just a Park University dance group. It is an organization that feeds on brotherhood.
In an email, Kierra Taylor, captain of the Crimson Dancers said, "The Crimson Dancers are built on the principle of fellowship not only to provide our members with support, comfort and encouragement, but also to make our organization a place to be. a student can find a home and a family. "
Grade 2 member and early childhood education major Jazmine Minor said the group was like family. They can share their struggles and feel supported.
"Rather, it's a group you can count on," said Maria Amisi, a sophomore student and nursing major. "If you have a problem or need something, you can always count on them to help you. "
This organization is one that promotes physical fitness as well as the school spirit. The team performs at basketball games, Get on Board Day, and the Homecoming Cheer Rally. A great accomplishment for the dancers was being able to perform at a KC Comets halftime game in 2019.
"This was our first time playing on a big league sports team outside of Park University," Taylor said.
Several members reflected on how their social life in Park changed after joining the group, especially how they got more involved and made new friends. Minor first heard about Crimson Dancers via Instagram in her first year as she actively researched organizations to be a part of.
"I was already new to campus and wanted to get involved," Minor said.
Amisi noticed that she made more friends and developed her dancing skills since joining the group.
Taylor said she struggled to bond with people as a freshman in the suburbs when she started at Park, but she met the former captain at the activities fair. school and was invited to join the team.
"I joined the team and loved it, I stayed, and now this is my third year on the team, I became captain and I was able to extend the legacy," said Taylor. .
Prior to joining Crimson Dancers, she had danced with the Pantherettes Drill Team for the three years she attended Eastern Hills Middle School in Texas.
"I loved it and was determined to be a better dancer so I stayed the three years," Taylor said.
Joining Crimson Dancers has been part of Taylor's identity in Park, as students who initially meet her are able to recognize her as a member.
Minor said that although she had been dancing since high school and taking studio lessons, she was drawn to the group to learn different styles.
"I was only doing hip hop and maybe wanted to experience other dances that I had never done before," Minor said.
Minor enjoys practice but enjoys playing even more. She likes to dress up to play and show people what the team rehearsed.
"I'm used to the performance part," Minor said. Amisi appreciates both and said, "We can't perform well if we don't train well. "
This semester, the group only played the Homecoming Pep Rally, but have plans for more performances as the basketball season approaches. They are hosting a fundraiser for their cheerleader costumes October 18-29 in front of the Thompson Commons Student Center. Lollipops in Halloween-themed packaging sell for $ 1, and that money goes into their costume budget.
The group also organizes a spring showcase every year. For this event, they perform all the dances performed during halftime and all the new routines. There is no date set for the next showcase yet.
The Crimson Dancers are hosting essays for undergraduates interested in joining. These are three clinical days where two routines are taught: jazz and hip hop. They also ask interview questions to see if the students are a good fit for the team. This includes asking questions about fellowship, fitness, and school spirit. This is necessary to promote their fitness goals and support the athletics of the park.
They also have walk-in trials and practices in the labor room during the week on Tuesday, Wednesday and Thursday evenings. Interested students can contact the captain or attend the practices, as there are no requirements.
Crimson Dancers are looking for students willing to join them and be part of a team that promotes the school spirit in Park.